Dan Slaubaugh@DanSlaubaugh

Dan Slaubaugh is the founder of On The Prowl. He is responsible for producing content to be displayed on the Twitter page, writing/publishing articles online, and connecting with other media outlets to form a strong connection with the sports media world.

Dan is currently an undergrad student at North Dakota State University pursuing a degree in Communications. In addition to covering the Wolves at OTP, Dan also writes for SBNation's Rays blog DRaysBay.

When Dan isn't involved in the sports scene, you probably can find him fiercely competing in an old-fashioned game of Settlers of Catan.
---
Jonathan Slusar​
​@OhTheStatic


Jonathan Slusar is a recent graduate student of Arizona State University and holds a master's degree in English. Outside of being a Timberwolves fan, he loves the Chicago Bulls and absolutely does drag people who gave them a low 2017 draft grade for picking Lauri Markkanen.

When he isn't watching basketball, Jon is probably reading a novel and trying to get through his "to-read" queue.

---

Zach More is a Wolves analyst for On The Prowl, sending out tweets on the daily. Zach has a great basketball mind and looks beyond the details of the game.

Zach graduated from Minnesota State University, Mankato with a degree in business management and currently works for a sporting goods store in New Ulm, Minnesota.

---

Louie Vicchiollo

​​

@statswish

​Louie Vicchiollo is currently a student at Iowa State University studying statistics. He enjoys using data to analyze basketball, and hopes to make a career of it in the NBA.

​

When not diving into NBA analytics, you can find Louie on the lake.

Jonah Sprinkel has recently enrolled at the University of Minnesota for a degree in Journalism. He is striving to make a career out of covering the NBA.

If he's not watching basketball or writing, he's probably playing Super Mario.


---
Powered by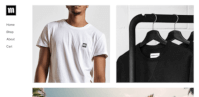 Create your own unique website with customizable templates.